A WORLD-CLASS CRAFT.
CAN YOU FEEL IT?
Bisalhães' Pottery - Vila Real
FROM PORTUGUESE SOIL TO DUBAI'S SANDS.
The world is, once again, coming together at the World Expo Dubai. Here, at this spectacular and visionary site, over 192 different nations are exhibiting their best qualities, including us, Portugal. Located in the sustainability district, the Portuguese Pavilion invites you to feel the genuine appeal of its northern regions. Join us for a deep dive in one of our darkest secrets: the exquisite Bisalhães' black pottery, in Vila Real, part of Unesco's list of Intangible Cultural Heritage.
Know more about Vila Real
DO YOU WANT SOME? FEEL THE PORTUGUESE FLAVOUR AT AL-LUSITANO BY CHAKALL.
The Portugal Pavilion showcases the best of Portugal's gastronomy at the restaurant Al-Lusitano by Chef Chakall. A Portuguese-Argentinean with a deep knowledge of Portuguese cuisine, who mixes tradition with the most authentic ingredients to elevate the flavours of each dish. And from 14 to 16 October the restaurant invites Chef Vítor Matos. A special guest who brings a delicious menu. Would you like to try it?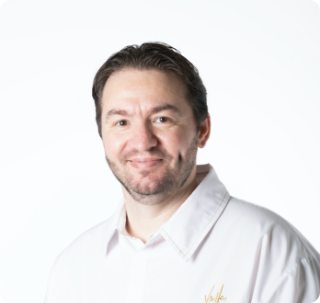 Chef Vitor Matos. A special guest.
With a professional career in Portugal and Switzerland, Vítor Matos started as a chef in 1998 at Estalagem Quinta do Paço, in Vila Real. Throughout his nearly 20-year career, Chef Vítor Matos has been a judge in several competitions and a speaker at several congresses. He has won several awards, where he excels in the use of seasonal, genuine and fresh products, enhancing the taste of food. At the Al-Lusitano restaurant he will surprise us with a unique menu, which includes starters, fish and meat dishes and dessert. Food plating is a must, as everything will be served in black pottery of Bisalhães, as tradition dictates.
Expo 2020 Portugal Pavillion, Wisdom Avenue – Dubai, UEA.
THE MENU IS SERVED IN BLACK POTTERY OF BISALHÃES, VILA REAL
Cold Starter
Octopus
Resembling an escabeche, delicate and so very ours.
Fish Dish
CODFISH WITH CHICKPEAS
"My codfish with chickpeas....a heritage from my hometown"
Meat dish
Roasted LAMB
From our most genuine tradition...roasted lamb in Black Pottery of Bisalhães"
Dessert
Custard
Grandma's Custard in Bisalhães' Pottery with olive oil, vanilla, and passion fruit.
A BURIED TREASURE THAT WILL FIRE YOUR IMAGINATION.
Bisalhães pottery, produced in Vila Real, is more than just black ceramics. It is a delicate tradition, passed on throughout generations, remaining true to ancestral processes. From the hand preparation of the clay, to cooking each piece in an open fire oven, carved directly on to the soil. From the blazing mix of earthy elements such as broom, pine needles, heather and gorse rises the smoky textured pottery that has been considered Intangible Cultural Heritage by UNESCO. A treasure which belongs to us all.
Everything you ever wanted to know about the black pottery of Bisalhães.
THE NORTHERN FEELING STARTS HERE.
WATCH IT AND FEEL IT.
Looking for Vila Real?
Look up, to the north of Portugal.
Nesting amongst mountains, the clearest rivers, forests and the irresistible flavours of the best well-kept traditions is Vila Real. The city is strategically located, one step away from the Douro region to the south, the luxurious greenery of Gerês to the west and the wild plateaus of Bragança to the east. Locally you can experience the vibrant atmosphere of the city, with its university campus, historical centre, mouth-watering gastronomy and exquisite wines.
TAKE OUR WORD FOR IT!
There's a wealth of craft and tradition to discover in Porto and the North of Portugal. It's true and you can take our word for it, literally. Speak to us in real time and start planning your next trip with the insightful help of our team. Step by step, discover the best places to stay, eat, enjoy and remember. See you soon in our part of the world.
Four outstanding regions await.
DISCOVER PORTO AND THE NORTH, THE ESSENCE OF PORTUGAL.